An International Conference

WTO and World Trade, III:
Challenges in a New Era
Duisburg, Germany, June 29-30, 2002

downloadable papers

list of participants

travel information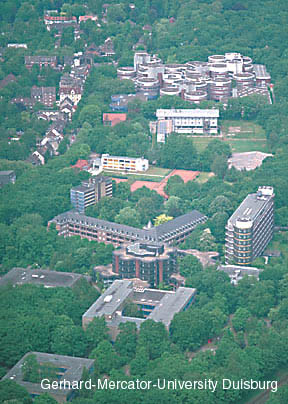 Economists are invited to submit papers that address some of the current trade issues and problems in the world. Papers in the following areas (but not limited to) will be most welcome:
trade in goods and foreign direct investment

trade liberalization

regionalism

information and international communication networks

domestic and international trade policies and political economy

the roles of the World Trade Organization (WTO)
This conference is a sequel to two previous conferences on the same theme, one held in Seattle in 1999 and another one in Seattle in 2001.
If interested in presenting a paper, please send (preferably by e-mail) by December 31, 2001 a draft of your paper (or an extended abstract with 300-500 words), together with your name, mailing and e-mail addresses, phone and fax numbers, affiliation and academic position to:
for people in Europe: GŁnter Heiduk, Institute for International and Regional Economic Relations, Department of Business Administration and Economics, Gerhard-Mercator-University Duisburg, Lotharstr. 65, D-47048 Duisburg, Germany, <iwbheiduk@uni-duisburg.de>

for people in other places: Kar-yiu Wong, Department of Economics, University of Washington, Seattle, WA 98195-3330, USA <karyiu@u.washington.edu>.
The final drafts of all papers accepted for presentation will be due on May 15, 2002.
Participants are encouraged to find their own resources for traveling and accommodation. In some special cases, partial travel subsidies are available to a limited number of participants. If you want to apply for a subsidy, please state the amount requested and the lowest round-trip airfare between your city and Duisburg, Germnay.