An International Conference
WTO, China,
and the Asian Economies
Hong Kong, November 9-10, 2002
Hotel Accommodation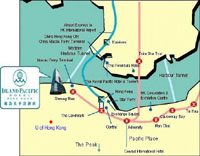 We have reserved a block of rooms at Island Pacific Hotel, located at 152 Connaught Road West, Hong Kong, a short distance from the campus of the University of Hong Kong. The rate for the participants of the conference is HK$530 (app. US$68) per single room per night, breakfast included.
Island Pacific Hotel - phone: +852 2131-1188; fax: +852 2131-1212; web site: http://www.islandpacifichotel.com.hk
Please click on the map to get a bigger one.
To reserve a room, please contact Ms. Laurie Tang of the University of Hong Kong at +852 2859-1039 or <sltang@hku.hk>. She will make the reservation for you. You are expected to pay for the room, unless you receive our notification that your local accommodation will be covered by the conference.
Transportation from the Airport
Method 1 - Airport Express
This is the quickest way. After passing through the immigration and customs control, you will arrive at the arrival hall. Go straight ahead to the machines/counters of Airport Express. Get a ticket to the Hong Kong Station (the last stop) from the machine. One way costs HK$100. (You will need local currency to buy a ticket. You can have foreign exchange inside the airport. You can also use Octopus Card to buy tickets.)
After arriving at the Hong Kong station, catch a taxi for a short ride to the hotel (less than HK$20). You can download a Chinese sign, which you can bring with you and show to the taxi driver for the name and address of the hotel.
Method 2 - Hotel Shuttle
Contact the hotel counter at the arrival hall near Exit A (Hall A Counter no. A11 - Sino Hotel Group). Please download a map of the location of the counter. The one-way fare is HK$120. The shuttle runs every half hour from the airport from 6:00 a.m. to 12:00 midnight.


back to the home page of the conference.